Welcome to your ultimate guide to studying in Singapore – a dynamic city-state that has carved its name as a global education powerhouse. Whether you're considering pursuing higher education in engineering, business, arts, or even aviation, Singapore offers a plethora of opportunities in a vibrant, multicultural, and academically enriching environment. In this blog post, we'll be your trusted companion as we navigate through the myriad of options that await you in the Lion City.
From renowned universities and diverse scholarship options to the cultural wonders that make Singapore a melting pot of experiences, we'll cover it all. Planning to study abroad and need information on student visas, accommodation, and student life? We've got you covered on that too!
So fasten your seatbelts, as we embark on this exciting educational adventure together, discovering the ins and outs of studying in Singapore. Whether you're a fresh high school graduate or a seasoned student looking to pursue your passion, Singapore's educational landscape has something incredible to offer.
Let's dive in and explore the boundless possibilities that await you in this dynamic city!
What Do You Know About Singapore?
Singapore is an amazing little country with a big personality! It's a vibrant island city-state located in Southeast Asia, and despite its small size, it packs a punch when it comes to culture, diversity, and opportunities.
One of the first things you'll notice about Singapore is its modern and futuristic skyline, filled with awe-inspiring skyscrapers and iconic landmarks like the Marina Bay Sands and the Singapore Flyer. But don't let the modernity fool you – Singapore also cherishes its rich history and traditions, which blend seamlessly with the contemporary lifestyle.
If you are a foodie, get ready to have your taste buds tantalized! Singapore is a paradise for food lovers, offering an incredible array of dishes from different cultures. Whether it's mouthwatering hawker fare like Hainanese chicken rice or indulging in a luxurious dining experience, the city has something to satisfy every palate.
If you're considering studying in Singapore, you're in for a treat! The country is known for its top-notch universities and educational institutions that attract students from all over the world. The educational system here emphasizes excellence and innovation, providing students with a solid foundation for their future careers.
Oh, and did I mention the incredible cultural diversity? Singapore is a melting pot of various ethnicities, languages, and religions, creating a unique blend of traditions and celebrations throughout the year. The harmonious coexistence of different cultures makes it a fantastic place to learn and grow, broadening your horizons in ways you can't even imagine!
Don't worry about getting around; Singapore's public transportation system is efficient and well-connected, making it super easy to explore the city and its charming neighborhoods.
So, whether you're interested in academic pursuits, culinary delights, cultural experiences, or simply seeking an exciting adventure, Singapore has it all! It's a friendly, welcoming, and safe destination that will leave you with unforgettable memories and experiences.
What's the Cost of Living in Singapore?
Singapore is undeniably one of the more expensive countries to live in, owing to its high costs of housing, food, transportation, and entertainment. However, with careful budget management and avoiding extravagance, living costs can be kept reasonable. The cost of living in Singapore depends on various factors, such as the location of accommodation, the size of the rented apartment or room, as well as the type and expense of food choices.
Public buses and the metro are more affordable transport options, while private cars and taxis can be pricier. Typically, students might need around $2,000 Singaporean dollars per month, which covers housing, commuting, and food expenses.
Studying in Singapore – Higher Education in the Lion City
One of the key reasons that make Singapore an ideal destination for higher education is the availability of globally recognized universities. In Singapore, you can earn degrees from prestigious institutions like the National University of Singapore and Nanyang Technological University, both ranking among the top 20 universities in the world.
These universities boast modern resources and state-of-the-art facilities, featuring extensive libraries and well-equipped labs for active learning and research. Singaporean universities also cater to the needs of international students, offering tailored educational programs and providing necessary language and cultural support.
Studying in Singapore – Best Universities In Singapore
Let me give you a quick rundown of some of the best government and private universities in Singapore:
The National University of Singapore (NUS) is an esteemed and renowned institution that proudly stands as Singapore's oldest and largest university. Founded in 1905, NUS has grown into a global powerhouse of education, research, and innovation.
NUS offers a wide spectrum of academic disciplines, covering fields such as science, engineering, business, law, arts, social sciences, and medicine. The university's commitment to excellence in teaching and research is evident in its consistently high rankings among the world's top universities.
Located at the heart of Singapore, NUS provides a dynamic and culturally diverse environment that fosters intellectual growth and personal development. With a faculty comprising distinguished scholars and experts, students are exposed to world-class education and cutting-edge research opportunities.
One of NUS's strengths lies in its emphasis on interdisciplinary learning and collaborative approaches. The university encourages students to explore diverse areas of knowledge and to think critically across different fields. This holistic approach ensures that graduates possess a well-rounded perspective and are equipped to tackle complex global challenges.
Beyond academics, NUS offers a vibrant campus life with a myriad of student organizations, clubs, and activities. Students have ample opportunities to engage in sports, arts, community service, and leadership development, enriching their university experience.
NUS also places great importance on nurturing a strong global outlook. The university collaborates with top institutions worldwide, enabling students to participate in exchange programs, international internships, and research initiatives. This global exposure broadens students' horizons and enhances their cultural awareness and adaptability.
NTU is a leading and dynamic institution that stands tall as one of Singapore's most prestigious universities. Established in 1981, NTU has quickly risen to prominence both nationally and globally, offering top-notch education and cutting-edge research opportunities.
NTU's dedication to excellence is reflected in its comprehensive range of academic programs, which cover fields like engineering, technology, natural sciences, business, humanities, and social sciences. The university's commitment to nurturing future leaders and innovators is evident in its forward-looking curriculum and emphasis on hands-on learning.
One of NTU's unique strengths is its focus on scientific research and technological applications. With a faculty of distinguished experts and state-of-the-art research facilities, NTU provides students with the opportunity to engage in groundbreaking research and contribute to cutting-edge discoveries.
SMU is a prominent and dynamic institution that stands as a premier business-focused university in Singapore. Established in 2000, SMU has quickly established itself as a trailblazer in business, economics, and law education.
At SMU, students are encouraged to embrace innovation and creativity in their learning journey. The university's curriculum is designed to bridge academic theory with real-world applications, preparing graduates to excel in the competitive business landscape.
SMU's faculty comprises distinguished academics and experienced industry professionals who bring a wealth of knowledge and expertise to the classroom. This combination of academic rigor and practical insights provides students with a well-rounded education that equips them to meet the challenges of the modern business world.
One of SMU's defining features is its interactive and discussion-based pedagogy. Students are actively engaged in class discussions, case studies, and group projects, fostering critical thinking and effective problem-solving skills. This student-centered approach creates a dynamic learning environment that encourages intellectual curiosity and collaboration.
SIT is a renowned and forward-thinking institution that plays a pivotal role in Singapore's higher education landscape. Established in 2009, SIT focuses on delivering practical and industry-relevant education in various fields, catering to the evolving needs of the job market.
SIT is well-known for its strong emphasis on applied learning, ensuring that graduates are job-ready and equipped with the necessary skills to excel in their chosen industries. The university collaborates closely with industry partners to design and deliver programs that address real-world challenges, providing students with a unique opportunity to gain hands-on experience and a deep understanding of their respective fields.
With a diverse range of academic programs, SIT covers areas such as chemical, civil, electrical, electronic, and medical engineering, as well as applied sciences, biotechnology, information technology, design, and arts. The university's multidisciplinary approach encourages students to explore different domains and promotes collaboration across various disciplines.
SUTD is a prestigious and cutting-edge institution that stands at the forefront of technology, design, and innovation. Established in 2009 in collaboration with the Massachusetts Institute of Technology (MIT) in the United States, SUTD has quickly gained recognition as a top-notch university with a focus on design-driven education.
SUTD offers a unique and interdisciplinary approach to education, emphasizing the integration of technology and design in solving real-world challenges. The university's curriculum combines rigorous academic training with practical applications, fostering a creative and entrepreneurial mindset among its students.
One of SUTD's defining features is its four main colleges: Engineering, Architecture and Sustainable Design, Information Systems Technology and Design, and Artificial Intelligence.
SUTD's campus, located in Changi, Singapore, reflects the university's commitment to fostering creativity and collaboration. The campus design encourages interactions between students and faculty, inspiring a vibrant and dynamic learning environment.
What Are the University Admission Requirements in Singapore?
If you're dreaming of studying in Singapore, you might be wondering about the admission requirements. Well, they can vary depending on the university and program you're interested in, but don't worry, we've got you covered with some general pointers.
To begin with, you'll need to pass an approved English language test like IELTS or TOEFL. Good grades in your previous academic years will also boost your chances. Additionally, some universities in Singapore might have extra requirements like exceptional tests, personal interviews, or work experience. But hey, don't fret, it's all part of the exciting journey towards your education goals!
Remember, it's always a good idea to visit the websites of the universities you're interested in to get the exact admission requirements and make sure you're all set to embark on this amazing academic adventure!
How to Apply for University Admission in Singapore?
If you're ready to take on the application process for universities in Singapore, here's what you need to know. While the specific steps can vary between institutions, we've got the basics covered for you:
First things first, choose the university and program you want to apply for. It's an important decision, so take your time!
Next, hop online and submit your application through the university's website. Fill in your personal and academic information – it's like taking the first step on an exciting journey!
Once you've submitted your application, don't forget to send in the official documents. These could include your previous academic certificates, English language proficiency test results, transcripts, and any other documents required by the university.
Some students may need to take standardized tests like TOEFL or IELTS. So, get ready to show off your language skills!
Fingers crossed! If your application is accepted, you'll receive an offer letter. This letter will contain all the information about the terms and final confirmation deadlines.
After getting the acceptance letter, it's time to confirm your spot and make the required payment to secure your place in the program. Congratulations, you're one step closer to your academic dreams!
If you're an international student, you'll also need to apply for a student visa to study in Singapore. Make sure you have all the necessary documents and apply through the Immigration & Checkpoints Authority (ICA) website.
How to Get a Student Visa in Singapore?
Start by applying online through the Immigration & Checkpoints Authority (ICA) website. Remember to have all your documents ready, like a valid passport with at least six months of validity, visa fees, an acceptance letter from the university, previous academic certificates, proof of income, and English language proficiency certificates.
The student visa in Singapore can be granted for different durations, depending on your course. Short courses might get up to 4 months, diplomas and certificates up to a year, and degrees can extend up to 4 years. And guess what? If you want to extend your stay, you can apply for a visa extension before your current one expires.
Fully-Funded Scholarships In Singapore
Have you ever considered studying in Singapore and wondered if there are any scholarships available? Well, good news! Singapore's universities and research centers offer a range of scholarships for international students, providing them with the chance to study in Singapore for free!
One of the most popular scholarships is the SINGA Scholarship, designed for Ph.D. students. With this fantastic opportunity, you might not have to worry about paying any fees at all! The SINGA Scholarship is a collaboration between various institutions, including A*STAR (Agency for Science, Technology, and Research), NTU (Nanyang Technological University), NUS (National University of Singapore), SUTD (Singapore University of Technology and Design), and SMU (Singapore Management University). It offers opportunities to pursue a Ph.D. in a wide range of fields.
The Ph.D. program will be conducted in English at one of the renowned research laboratories affiliated with A*STAR, NTU, NUS, SUTD, or SMU. Imagine working in some of the most cutting-edge labs globally, supervised by internationally recognized researchers from these institutions.
Upon successful completion of the program, you'll be awarded a Ph.D. degree from one of the prestigious institutions mentioned above. Singapore, known as a gateway to some of the fastest-growing economies in Asia and the Pacific, provides an excellent platform for building strong global connections and elevating your research career to new heights.
If you're into short-term research experiences, the SIPGA Scholarship might be just the thing for you! This opportunity allows international students to explore the scientific environment at ASTAR (Agency for Science, Technology, and Research) and collaborate with world-renowned researchers.
ASTAR is all about connecting science with industry and driving economic growth while improving healthcare and quality of life in Singapore. Their research spans diverse fields, from biomedical sciences to physics, and they actively engage in partnerships and support research-based startups.
So, whether you're dreaming of a full Ph.D. journey or a shorter research experience, studying in Singapore can open doors to a world of possibilities and personal growth. Don't miss out on this fantastic chance to explore the Lion City and be a part of its dynamic academic landscape!
Studying Aviation In Singapore
Let's talk about studying in Singapore and specifically exploring the exciting field of aviation! Singapore considers aviation a vital part of its economy, with one of the busiest and most famous airports in the world – Changi Airport, known for its beauty and efficiency.
Not only that, but Singapore is also determined to become a global hub for aircraft equipment and maintenance. With these ambitious goals, the country is always on the lookout for new and creative talents to join their workforce and be part of these exciting changes.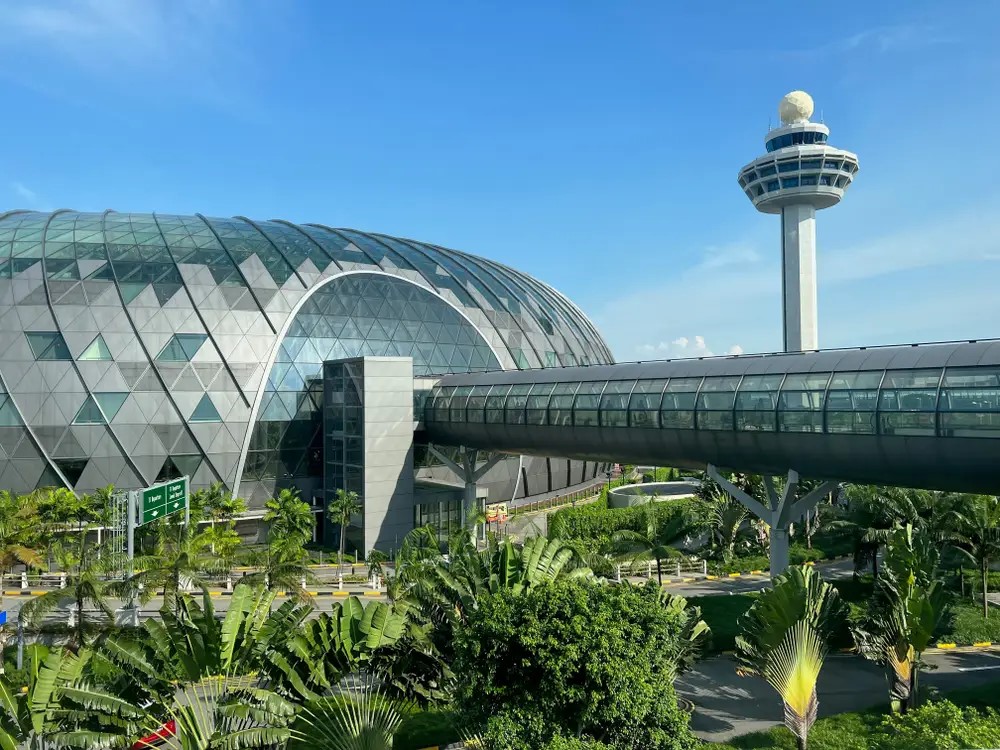 If you're interested in pursuing a career in aviation and dreaming of studying in Singapore, you've come to the right place! Singapore offers fantastic opportunities for aviation education and training, and here are some top-notch institutions that you should consider:
Best Universities To Study Aviation In Singapore
Singapore Aviation Academy (SAA)
Established in 1958, SAA is a globally recognized institution specializing in four schools – Aviation Management, Aviation Safety and Security, Air Traffic Services, and Airport Emergency Services. It has an impressive track record of more than 129,000 local and international students.
Singapore Flying College
The Singapore Flying College is a prestigious institution known for its excellence in aviation education and training. Established in 1988, the college is fully owned by Singapore Airlines, a renowned name in the aviation industry. With its strong ties to the airline, students at the Singapore Flying College receive top-notch training and exposure to real-world aviation practices.
Aspiring pilots and aviation enthusiasts from all over the world come to the Singapore Flying College to pursue their dreams of taking to the skies. The college offers comprehensive pilot training programs, ranging from private pilot licenses to commercial pilot licenses and beyond. It prides itself on producing highly skilled and competent pilots who are ready to face the challenges of the aviation industry.
Ngee Ann Polytechnic
Ngee Ann Polytechnic is a renowned educational institution located in Singapore. Established in 1963, it has a strong reputation for providing high-quality education and practical training in various fields. The polytechnic offers a wide range of diploma programs and is known for its commitment to producing well-rounded and skilled graduates.
With a campus that fosters a conducive learning environment, Ngee Ann Polytechnic is equipped with modern facilities and resources to support students in their academic journey. The institution takes pride in its dedicated faculty and staff who are passionate about imparting knowledge and guiding students towards success.
Temasek Polytechnic
Temasek Polytechnic is a renowned educational institution in Singapore, offering a wide range of diploma programs, including those in the field of aviation. Established in 1990, the polytechnic has grown to become a reputable center for learning and practical training.
For aviation enthusiasts, Temasek Polytechnic provides excellent opportunities to pursue their passion for flying and aircraft-related disciplines. The polytechnic's School of Engineering offers a specialized Aviation Management and Services course, equipping students with the knowledge and skills needed to excel in the aviation industry.
The Aviation Management and Services Diploma covers various aspects of aviation, including aviation operations, safety management, airport services, and air transport management. Students gain insights into the dynamic and complex world of aviation, preparing them for exciting careers in this ever-evolving field.
Republic Polytechnic
Republic Polytechnic, located in Singapore, is a reputable institution that offers comprehensive education and training in various fields, including aviation. As one of the leading polytechnics in the country, Republic Polytechnic has been providing students with practical and industry-relevant programs since its establishment in 2003.
For aspiring aviation professionals, Republic Polytechnic offers a specialized course known as the Diploma in Aerospace Engineering with Business. This unique program integrates both technical aerospace engineering knowledge and business acumen, preparing students for diverse roles in the aviation industry.
The Diploma in Aerospace Engineering with Business covers a wide range of subjects, including aircraft maintenance, aerodynamics, aviation regulations, and aviation management. Students receive hands-on training in modern aerospace facilities and laboratories, gaining practical experience in aircraft systems and maintenance practices.
When you study aviation in Singapore, you'll be part of an exceptional educational environment with top-notch instructors and researchers. You'll be surrounded by fellow students from all over the world, creating a diverse and vibrant learning experience.
Beyond your academic pursuits, Singapore offers a rich cultural heritage and exciting experiences to explore outside the classroom. From the beauty of nature to the city's history, diverse cuisine, and lively social events, you'll have countless opportunities to make unforgettable memories during your educational journey.
So, if you're eager to pursue higher education in aviation and seek a bright and successful future, consider studying in Singapore – a land of opportunity and discovery!
It's a decision that can open doors to a world of possibilities and pave the way for a fulfilling and exciting career in the aviation industry. So, don't hesitate – take that first step towards your dreams, and let the journey begin!
Look no further than our website if you're on the hunt for scholarships and internship opportunities! We pride ourselves on being your ultimate resource for all things related to funding your education and kickstarting your career.
Our website is dedicated to curating the most comprehensive and up-to-date database of scholarships available worldwide. Whether you're a high school student planning for college or a graduate student pursuing advanced studies, we have a wide array of scholarship options to match your academic goals and fields of interest.
Internship opportunities are equally important in shaping your professional journey, and we've got you covered on that front too! Our platform features a plethora of internship listings from leading companies and organizations across various industries. These internships are designed to provide you with hands-on experience, allowing you to apply your knowledge and skills in real-world settings and build a strong foundation for your future career.
Navigating the world of scholarships and internships can be overwhelming, but with our user-friendly website, you'll find the process hassle-free and efficient. Our search filters and personalized recommendations will help you discover opportunities that perfectly align with your qualifications and aspirations.
Our team is committed to continuously updating and expanding our database to ensure that you have access to the latest and most relevant opportunities. We understand the importance of financial support and professional exposure in your academic and career journey, and we are dedicated to being your trusted partner in achieving your dreams.
So, if you're eager to unlock a world of scholarship possibilities and embark on transformative internship experiences, look no further than our website.
Start exploring today and take the first step towards a brighter and more successful future!