Free Google courses that available for everyone and you will get a certificate after the period. This courses are online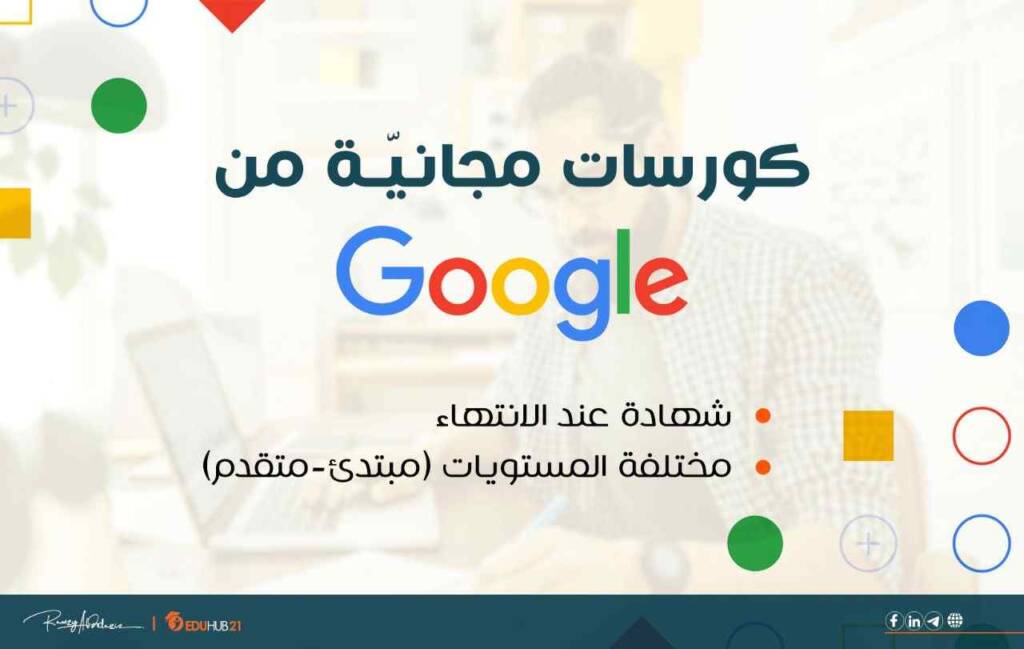 There are numerous free online courses available in various fields, which are essential for individuals looking to begin a new career or advance their existing one. These courses cater to various proficiency levels and upon completion, a certificate will be awarded.
Google offers a wide range of free online courses on different topics, such as digital marketing, data analysis, machine learning, cloud computing, and more. These courses are designed by industry experts and offer hands-on learning experiences, which enable learners to acquire practical skills and knowledge. Moreover, Google courses are available in various languages, making them accessible to learners from diverse backgrounds worldwide.
Google also provides certification exams, which can be taken online after completing the relevant courses. These certifications are recognized globally and demonstrate proficiency in the respective domains. Furthermore, Google offers specialized programs, such as Google IT Support Professional Certificate, which prepare learners for entry-level jobs in the IT industry.
In addition to the free courses, Google also offers paid training programs, such as Google Cloud certification training, which provide learners with in-depth knowledge and hands-on experience in specific areas. Overall, Google courses are an excellent resource for individuals seeking to enhance their skills and knowledge in various domains.
Type: Online courses
Duration: Various
Place: Google – Online
Nationalities: Egypt, United Arab Emirates, Bahrain, Djibouti, Algeria, Iraq, Jordan, Comoros, Kuwait, Lebanon, Libya, Morocco, Mauritania, Oman, Palestine, Qatar, Saudi Arabia, Sudan, Somalia, Syria, Tunisia, Yemen, and all countries worldwide.
Machine Learning Crash Course
Through a series of lessons, this course covers the fundamentals of machine learning. The course includes video lectures from Google researchers, text tailored for ML novices, interactive visualizations that demonstrate algorithms in action, and real-world case studies. You will have the opportunity to put your newly acquired knowledge into practice by completing coding exercises that guide you through the implementation of models in TensorFlow, an open-source machine intelligence library.
25 lessons – 30 exercises – Lectures from google researchers
Click here to start the course.
Fundamentals of digital marketing
Our free course, accredited by Interactive Advertising Bureau Europe and The Open University, is designed to help you master the fundamentals of digital marketing. Created by Google trainers, the course offers 26 modules to explore, featuring practical exercises and real-world examples that enable you to apply your learning to real-life scenarios. Through this course, you'll learn how to turn your knowledge into action and gain a solid foundation in digital marketing.
Modules – 40 h – Beginner
Click here to start the course
Understand the basics of machine learning
Machine learning is an incredibly potent tool with immense potential, from suggesting movies to assisting scientists in discovering groundbreaking treatments. In our course, "Understanding the Basics of Machine Learning," we delve into these technologies and examine how they can be applied in the real world to facilitate business growth. Our course videos will provide you with a comprehensive understanding of these cutting-edge technologies.
Module – 1 h- Beginner
Click here to start the course
Data Science with Python
The Data Science with Python program offers a comprehensive curriculum that equips learners with a thorough understanding of data analytics tools and techniques. With Python as the foundation, this program covers topics such as data analysis, visualization, NumPy, SciPy, web scraping, and natural language processing. Whether you're just starting out or seeking to advance your skills, this program serves as an ideal kickstarter for those who aspire to become a data scientist.
Modules – 8 Hours – Advanced
Click here to start the course
Google Cloud Computing Foundations: Data, ML, and AI in Google Cloud
Designed for individuals who lack prior experience in cloud computing, the Google Cloud Computing Foundations courses offer a comprehensive introduction to key cloud concepts. These courses cover the basics of cloud computing, big data, and machine learning, and provide an overview of where and how Google Cloud fits into the broader landscape. Whether you're a novice or seeking to expand your knowledge, these courses serve as an excellent starting point for anyone interested in cloud computing.
Click here to start the course
Google Project Management: Professional Certificate
Acquire an in-depth understanding of the practices and skills necessary to excel in an entry-level project management position. Develop the ability to produce effective project documentation and artifacts throughout all project phases. Additionally, learn the fundamental principles of Agile project management, including implementing Scrum events, constructing Scrum artifacts, and comprehending Scrum roles. Through real-world scenarios, enhance strategic communication, problem-solving, and stakeholder management skills.
months – Beginner level
Click here to start the course
Google Data Analytics Professional Certificate
Acquire a comprehensive understanding of the practices and procedures employed by junior or associate data analysts in their daily tasks. Gain proficiency in essential analytical skills, such as data cleaning, analysis, and visualization, as well as the tools utilized by data analysts, such as spreadsheets, SQL, R programming, and Tableau. Learn how to clean and structure data for analysis, perform calculations and analysis using spreadsheets, SQL, and R programming. Furthermore, gain the ability to visualize and present data findings through dashboards, presentations, and commonly used visualization platforms.
months – Beginner level
Click here to start the course
Share this opportunity through
سجل إيميلك للحصول على نشرة أسبوعية بالمنح الدراسية وفرص الدراسة بالخارج