Internship in Belgium 2023, for all nationalities.
The European Economic and Social Committee provides traineeships twice a year for a duration of five months to university graduates. These in-service training periods enable individuals to gain professional experience in a multicultural environment and learn about the EESC's roles and activities. The traineeships commence on 16 February and 16 September each year and are conducted at the EESC's offices located in Brussels. Additional information on the EESC's organizational structure and the duties typically carried out by trainees can be obtained by downloading relevant documents.
Type:Internship
Duration: 5-6 months (
16th September 2023 to 15th February 2024)
Place: Belgium, Brussels

Nationalities: Egypt, United Arab Emirates, Bahrain, Djibouti, Algeria, Iraq, Jordan, Comoros, Kuwait, Lebanon, Libya, Morocco, Mauritania, Oman, Palestine, Qatar, Saudi Arabia, Sudan, Somalia, Syria, Tunisia, Yemen, and all countries worldwide.
The grant amount is fixed at 1,340.47 EUR per month.
Health insurance cover optional, accident insurance included
Travel Insurance
Budget and Finance
Communication
External Relations
Institutional Affairs and Legislative Work
Internal Organisation
Labour Market, Employment and Social Affairs
Single Market, Production and Consumption
Sustainable Development
Various Services (Administration, Library, Archives, Documentation, Protocol, Catering, Culture)
Nationals of non-Member States can also be accepted on condition that the applicant fulfils all legal requirements concerning work and/or residence permits in Belgium.
Applicants need to be fluent in one EU language and have a good command of another EU language, with one of them being English or French.
Candidates who have been accepted for a traineeship must provide medical fitness proof and a police record extract demonstrating their suitability for the assigned duties.
Curriculum Vitae (CV): A document that summarizes your education, work experience, skills, and achievements. The CV should be written in English, French, or German and should not exceed two pages.
Motivation Letter: A one-page letter written in English, French, or German that explains your motivation for applying for the internship, your career goals, and how your experience and qualifications make you a suitable candidate for the position.
Diploma or Certificate: A copy of your highest academic qualification, such as a diploma or certificate. If your diploma is not in English, French, or German, you must also provide an official translation.
Language Certificates: Certificates that prove your proficiency in English, French, or German. The required level of language proficiency depends on the traineeship you are applying for, but typically requires at least a B2 level according to the Common European Framework of Reference for Languages.
Reference Letter: One reference letter from an academic institution, previous employer, or other professional who can attest to your character and work ethic.
ID Document: A copy of your passport or ID card.
Application Form: The completed online application form available on the EESC Traineeships website.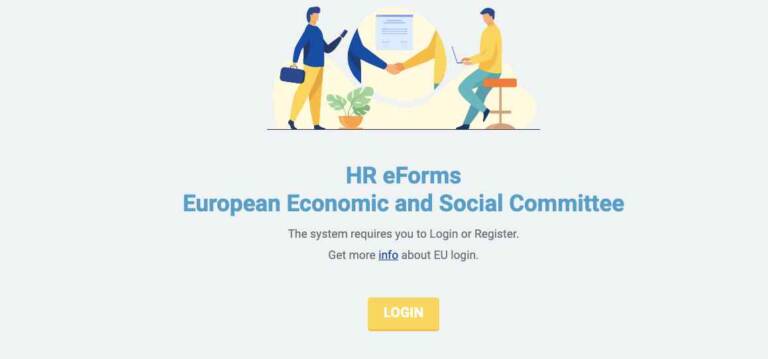 The first step is creating an account.
The second step is click on apply.
Share the opportunity through
سجل إيميلك للحصول على نشرة أسبوعية بالمنح الدراسية وفرص الدراسة بالخارج